13/14 inch Rim Band (45mm wide)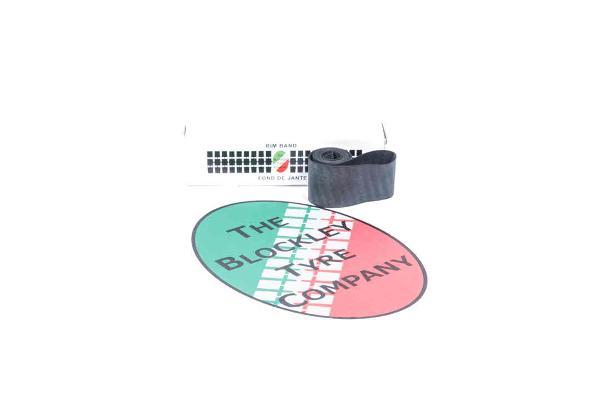 Rim Band suitable for 13" and 14" wheel rim sizes. Blockley Rim Bands are used to protect the inner tubes from the spoke heads that are in the wheel wells of wire wheels. They can also be also used when steel wheels are riveted or have aggressive spot welded marks in the centre which could cut or abrade the inner tubes. These Blockley 13/14" rim bands also cost considerably less than the one size fits all brands available elsewhere, because we sell direct.

The reason Blockley makes it's own rim bands is because many available rim bands are feathered in thickness at the edges which we have found go hard over a period of time and these thin edges act like razor blades that can slit the inner tube. These bands are also often a dark fairly inelastic material which clearly hardens quite easily with age.
Blockley rim bands are made from a softer compound and the edges are square cut at the full thickness, which stops this problem occurring. This level of attention to detail (as with all our products) really is important.

You'll also find that other bands offered will be the same rim band for a 14" wheel as a 17" wheel, whereas this Blockley rim band covers only the 13" and 14" wheel rims, with the larger sizes catered for with their own correctly sized bands. So now you'll have some idea of why we produce our own rim bands! Rim bands are only necessary to place in the wheel well of wire wheels where exposed spoke heads are present. Insulation tape is not adequate! (this also goes hard and cuts the tube).
Note that the rim bands only fit in the rim well. Note that with any standard wire wheel the dimples on the outside of the wheel rim get covered over by the bead of the tyre and as such the inner tube is protected from them. We have been asked by frustrated customers on a number of occasions how to get the bands to stay there!

And since producing Blockley rim bands, it was surprising how the price of rim bands suddenly plummeted!  Blockley rim bands cost less than anything else available, because we sell direct without a wholesaler in teh middle, so there is no reason to fit anything else!