205/70VR15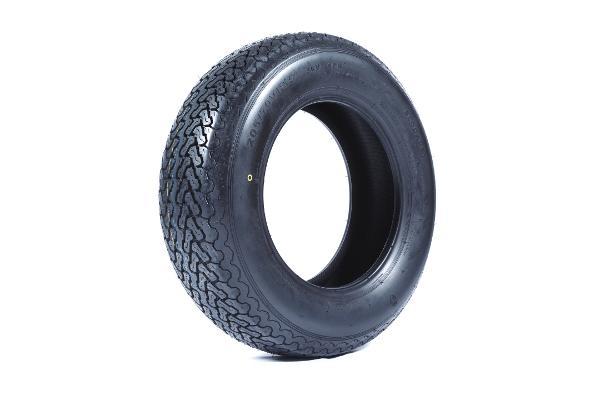 A superior quality Radial tyre 205/70 VR 15 
This tyre size is also known as ER70
| Type | Radial |
| --- | --- |
| Rim diameter | 15" |
| Tread width | 6.02"/ 220mm |
| Overall width | 7.68" / 210mm |
| Overall diameter | 26.38" / 668mm |
| Rim width (min) | 5.5" |
| Rim width (max) | 7.5" |
| Rim width (recommended) | 6" |
| Speed rating | V |
| Tread Pattern | BR1 |
This Blockley 205/70 VR 15 is a modern designed steel belted Radial tyre, with an exceptional speed rating and period correct tread pattern, designed in house. Since making this tyre we were asked to W (168mph / 270kph) speed rate this tyre for some of our German customers, so this tyre is now marked 205/70VR15 W
Popular on many cars such as Jensen, Aston Martin, Ferrari and Jaguars, see below.
This is an equivalent radial tyre for the cross ply 640x15 and larger 670x15. We have never understood why other manufacturers sell this tyre size ( also called ER70 ) so expensively.  This tyre is basically a wider version of a 185VR15 and therefore costs only marginally more to produce - This is why Blockley only charge £10 more for this tyre compared to the 185 VR15.  Because we sell direct and do not sell using the Classic tyre wholesaler people, this superb tyre represents incredible value. And they carry the same Blockley Radials guarantee that if they are not the best tyres the customer has ever driven on we will refund. They will give lighter steering a better ride and so on. Just scrub them in and go!
Every one of these tyres is inspected and checked for dynamic balance - The small painted yellow circle on the side wall can be aligned with the valve stem by the tyre fitter so they know the optimum place to put it. We perform this additional inspection process as we are determined to supply the best possible no-compromise product. 
- Daimler Sovereign (standard on models up to 1981, later 215/70VR15)
- Dailmler "Double Six"
-Citroen SM
- Jaguar XJ6 , XJS, E Type 5.3  V12
-Maserati Merak (rear tyre, with 185/70VR15 fronts)
-Morgan Plus 8
-Jensen Interceptor (we also make a larger tyre)
-Aston Martin DB4 DB5 DB6
-Ferrari 250GT Spider and Lusso
People who bought this also found the following products useful
Gallery