26x3 (700x80)
700x80, 650x55, 700x100, 27x3.85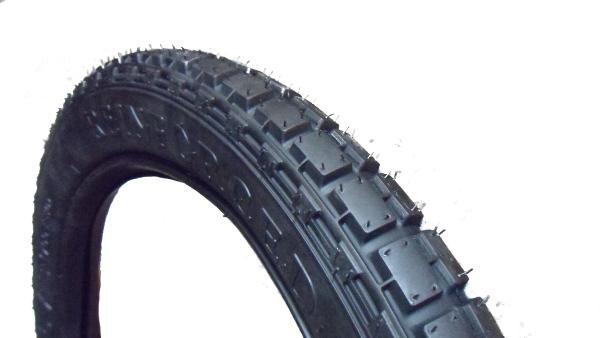 This 26x3 / 700x80 Blockley tyre is the best that you can buy. Robust, heavy duty and correctly made to the very highest quality, as are all Blockley products. This Blockley tyre has the correct twin-stud tread pattern used in period by Dunlop. This awesome quality tyre should not to be confused with any other brand of 26x3 tyre available from other tyre selling sources!

| Type | Beaded Edge |
| --- | --- |
| Rim diameter | 26x3 rim or 650x65 rim |
| Overall width | 77 mm |
| Overall diameter | 677 mm |
| Tread Pattern | Twin stud pattern |
This 26x3 tyre size (which is also 700x80 size) by Blockley Tyre Co is a high quality product than can be relied on to be of decent superior quality, using brand new tooling and moulds to make this tyre. This 26x3 tyre has the original twin stud Dunlop tread pattern as it existed in period. Note this Blockley 26x3 tyre is not the usual offering up of a lightweight, degrading, bulging in use and often not round tyre that you have been getting used to, which a child can fit using a couple of fingers, which is why Blockley Tyre Co was persuaded to produce a 26x3 / 700x80 size.
Blockley was approached by the VMCC (The Vintage Motor Cycle Club) to make an authentic looking beaded edge 26x3 tyre, because their members were suffering and weary of the tyres that were available being sold in this size, which were causing their members issues. The Vintage Motor Cycle Club wanted a wholesome tyre of a type available in "the old days" that was round that runs true when inflated on the wheel, would not bulge and go out of shape, and would stay on the wheel rim under use. And a tyre that wouldn't keep growing the more you inflated it! This seemed little enough to ask for, so after a few years of development and prototypes, research and checking, we have added this Blockley 26x3 (700x80) tyre size, built exactly as it should be, and added to our already sizeable range of Blockley tyres. This 26x3 (700x80) tyre has a good sidewall, and apart from motorcycle use we have ensured it is suitable for the many Cyclecars and Light cars which also require this size. The tyre has written on the sidewall Extra Heavy and Reinforced as in period, but unlike other tyres that you will see with this writted on, the Blockleys really are! Luckliy we had a unused original period tyre in our collection, so were able to match and study the dimensions exactly, so if you are fitting to a motorcycle the Blockley tyre will not be too close or rubbing your forks and so on.

When Blockley produces any additional tyre size, the Classic Tyre Wholesalers often reduce the prices of their equivalent offerings, with discounts, "free" postage, free inner tubes and so on, but remember that Blockley was asked to make this 26x3 size only because of dissatifaction with what was available. The Blockley Tyre company was started only because of the unavailablilty of tyres that were needed. The reason for the low price of the Blockley is by us selling direct to the end user or garage/ restorer, and bypassing the Classic tyre Wholesalers, so these Blockleys cost about the same as the other brands available elsewhere!
Note that Blockley also have an inner tube for the 26x3 tyre which we would recommend be used in conjunction with this tyre. It is nice and thick and made from the best material butyl, so you will not be continually pumping it back up.

Finally, for interest, we would point out that in period there was also a tyre size "650x65" which is no longer available ( which had a smaller inflated diameter of 660mm with narrower 67mm overall width) - this 650x65 tyre was also made to fit the same rim in period as our Blockley 700x80 / 26x3 tyre size. If you see other tyre wholesalers websites, you will see that they think a 26x2 1/2 tyre is a 650x65, but that is because they do not know better! In addition there was also a larger beaded edge "low pressure" tyre that was, again, made for fitting to this same wheel rim which was 700x100 (also listed sometimes as 27x3.85 which is the same tyre). There were also a couple of other tyre sizes again using the same wheel rim, 650x75 and 700x85. So in conclusion, if your vehicle was originally fitted in period with the no longer avialable tyre sizes 650x65, 650x75, 700x85 or 700x100 (which was also 27x3.85) you can now use our Blockley 26x3 (700x80) tyre size as an alternative, fitted to the same wheel. If you require any advice or are confused by anything, we can try and help!

People who bought this also found the following products useful
Gallery