26x3 (700x80)
700x80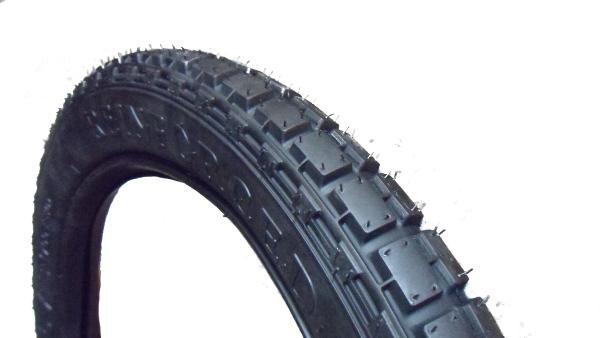 This Blockley is the best 26x3 / 700x80 tyre that has been produced. Robust, heavy duty and correctly made to the very highest quality, as are all Blockley products. Not to be confused with any other brand of 26x3 tyre!

| Type | Beaded Edge |
| --- | --- |
| Rim diameter | 20" (beaded edge /clincher rim) |
| Overall width | 77 mm |
| Overall diameter | 677 mm |
| Tread Pattern | Twin stud pattern |
This is a 26x3 ( 700x80 ) tyre that you can finally rely on to be of decent quality, built on brand new tooling and moulds made for the job. This Blockley design is based on the authentic twin stud Dunlop pattern that was available in period. This is not the usual offering up of a lightweight, degrading, bulging in use and often not round tyre that you have been getting used to, which is why Blockley was asked to produce this 26x3 / 700x80 size.
Blockley was approached by the VMCC  to make an authentic looking beaded edge 26x3 tyre, because their members were suffering and weary of the low grade of tyres available such as the newly branded Ensign and so on. The Club wanted a wholesome made tyre like was available in "the old days" that was round and run true when inflated on the wheel, would not bulge and go out of shape, and would stay on the wheel rim.  This seemed little enough to ask for, so after a few years of development and prototypes and checking we have finally added this perfect 26x3 size, built as it should be, to our Blockley range of beaded edge tyres. This tyre has a good sidewall, and apart from motorcycles we have designed it so this is eminently suitable for the many Cyclecars and Light cars which also require this size. Luckliy we had a unused original period tyre in our collection, so were able to match the dimensions exactly, so if you are fitting to a motorcycle these will not be too close or rubbing your forks!
As usual, when Blockley produces any tyre size, the Classic Tyre Wholesalers slash their prices, but remember that Blockley was asked to make this 26x3 size only because what is available is so low grade. The Blockley company was started only because Classic old car tyres are produced by outfits for profit, whereas that was not why Blockley Tyre Co was strated. And Blockley low prices are only because we sell direct and not through these Wholesalers.
Note that Blockley have also produced a super heavy duty butyl inner tube for the 26x3 tyre which we would recommend be used in conjunction with this tyre.