33 x 5
500x23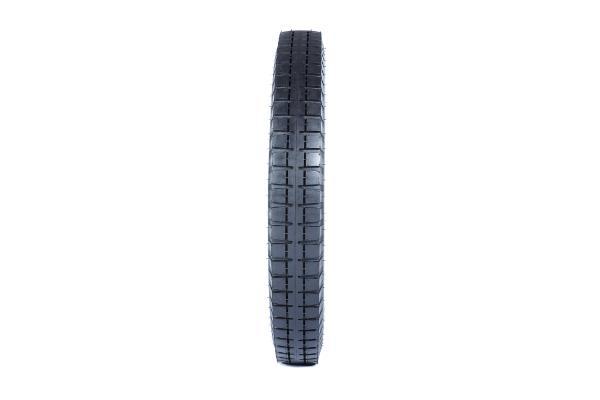 The 33x5 straight sided Blockley tyre with period accurate Triple Stud pattern. Constructed with an 8 Ply rated sidewall, giving unparalleled handling characteristics. The best 33x5 tyre ever made. Suitable for a 23" wheel rim size.
| Type | Straight Sided |
| --- | --- |
| Rim diameter | 23" |
| Tread width | 104mm |
| Overall width | 143mm |
| Overall diameter | 886mm |
| Rim width (min) | 2.75" |
| Rim width (max) | 3.75" |
| Rim width (recommended) | 3.2" |
| Load index | 8 Ply rated. Load 1700lbs. (770kg.) |
A perfect fitment for the Rolls Royce Silver Ghost using the straight sided wheel rims, using a tread pattern the cars had in period.
The Blockley 33 x 5 straight sided tyre is fitted to 23" wheels with straight sided (split rim) or later well base 23" rims. Like all Blockley products, our 33x5 tyre size is of a design and build quality unsurpassed in any other brand of tyre available resulting in perfect handling and ride. The difference between what we produce and what else is available out there is huge. Importantly this 33x5 tyre has a diameter much larger than any other brand of 33x5 tyre available elsewhere, with the correct period dimensions.  And what looks like the low price we charge is only because we sell direct, and not via the Classic Tyre wholesalers.
Driving on this Blockley 33x5 tyre will be a total and utter revelation, compared to whatever you have used before. These tyres are built for road use and prototype sets were tested on an H6 Hispano Suiza in the U.S.A, as well as being tested on an aero engined car both on the road as well as races at Goodwood and multiple hill climbs to show they can put up with any abuse! They have also been used on many Rallies throughout Asia, the owner of the Lanchester being highly impressed, in comparison to the Michelins he was using previously - "Simply the best tyres the Lanchester has ever crossed Continents on".

These Blockley 33x5 tyres look identical to what was available in period, the only difference being that the Blockley tyres are made using superior materials which were unavailable in period. Blockley was assisted with this 33x5 tyre project by Rolls Royce Silver Ghost historian John Fasal, who had an original unused spare tyre removed from a Rolls Royce Silver Ghost, to ensure our Blockley 33x5 tyre was as period correct looking and authentic as possible.
It is important to note that Blockley are also the only manufacturer producing a correct sized inner tube for the tyre size 33x5 ! For example, Longstone Classic Tyres and Vintage Tyres at Beaulieu (neither of whom we have dealings with) recommend fitting a Michelin 880x120 tube in a 33x5 tyre - lay one of these Michelin inner tubes over the tyre with a little air in it and just judge for yourselves! For this reason you really need to fit the correct size Blockley tube with our Blockley tyre, if you want trouble free motoring, which is the only reason why Blockley also produce a large range  of "Blockley Superior" thick butyl correct dimension inner tubes. And the Blockley tubes cost no more than the alternatives in any case, because they do not have the Classic tyre wholesaler mark up massaged into them, hence this exacting product can be sold at a realistic price.

People who bought this also found the following products useful
Gallery