165HR400
165R400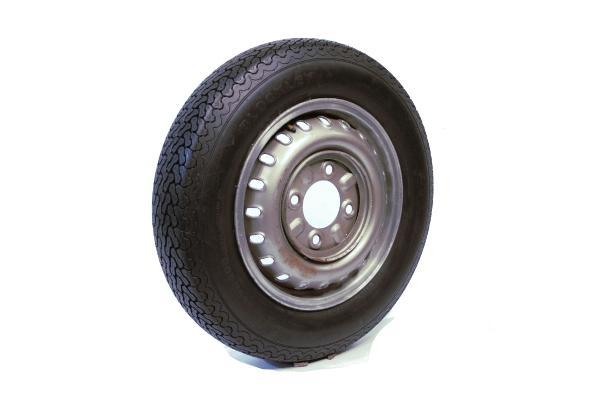 165 HR 400 Steel belted radial with correct diameter and awesome handling and ride characteristics. These are the best 165R400 tyres ever made, and you will not believe the improvement in handling these period correct Blockleys will result in. A size used for many Lancias (Aurellia , Flaminia , Aprillia) , Alfa Romeo 1900 , Citroen Traction Avant and many others, the 165R400 size being the first radial tyre size sold to the public.
| Type | Radial |
| --- | --- |
| Rim diameter | 400mm |
| Tread width | 165 |
| Overall diameter | 677mm |
| Load index | 87 H (545kg) |
| Speed rating | H (130mph / 210kph ) |
| Tread Pattern | BR1 |
This Blockley 165 HR 400 is a modern designed full diameter steel belted Radial tyre, with a good speed rating (H speed rated)and period correct tread pattern, designed in house. A radial replacement for the cross ply sizes 130x40 and 140x40.
Blockley produced this 165HR400 tyre so there could be a proper speed rated and infinitely better handling tyre than what has been available, because something much more wholesome has been needed for some decades. Knowing the Lancia Aurellia and Flaminia Zagato myself pushed me to commit to this unusual millimetric size, which required much specialist tooling. Since starting this project Pirelli also have produced this size with the same speed rating as us, but the Pirelli diameter is too small! These Blockleys will be the best 165R400 you have ever driven on and come with the usual Blockley radial tyre guarantee to scrub them in and if you are not overjoyed in every aspect over the next 1000 miles or so we will offer a full refund. Anyone previously using a 165R400 tyre size is in for a nice surprise!
Please note that as per original period specification this 165HR400 tyre is a tube type, just as the 165R400 size was in period, so you will need to fit a correct fitting inner tube - see below.
Perfect for Lancia Aurelia, Lancia Flaminia , Lancia Aprillia
Alfa Romeo 1900 , 2000 , 2600
Citroen Traction Avant,
Citroen ID, DS 19 (AR)
Ferrari 250 option
Peugeot Darl'mat
Fiat 8V
Salmson 2300S
Frazer Nash Targa Florio - radial option.
People who bought this also found the following products useful