550 x 15
590x15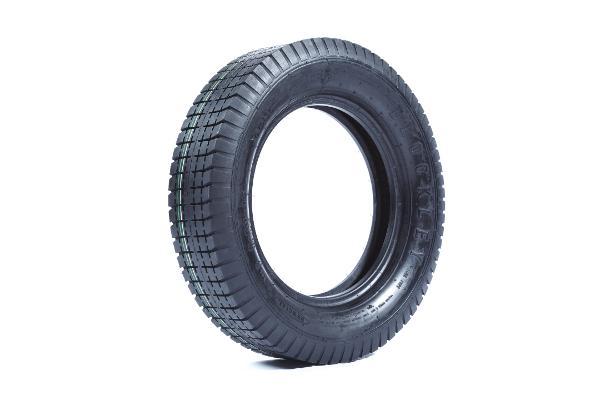 A 5.50 x 15 cross (bias) ply tyre with our 5 block tread pattern.
Made to L section dimensions. 
| Type | Crossply |
| --- | --- |
| Rim diameter | 15" |
| Tread width | 4.80" (122mm) |
| Overall width | 6.30" (160mm) |
| Overall diameter | 25.80" (655mm) |
| Rim width (min) | 3.75" |
| Rim width (max) | 5.5" |
| Rim width (recommended) | 4" |
This Blockley was built initially for the Ferrari 166 which started life on a 5.50 x 15 and ended on a 5.90x15 size, so we made a genuine compromise size to suit both.  Good on many cars such as Maserati A6 , Ferrari 166 , Austin Healey's , these are a superb handling tyre, and look fantastic!

Please note that this tyre is made to L section dimensions and therefore may be wider than you expect so please check the dimensions listed.
All Blockley Cross (Bias) ply tyres are made to fit the original rim widths, something other manufacturers have forgotten about over time. In addition they are genuine tyres for road use, with a robust sidewall and covering, capable of being 'curbed' as you would expect from a tyre suitable for road use.  We wanted a suitable mid 1930's - 50's look. The compounding of all our cross (Bias) ply tyres conform to FIA Appendix K which uses Dunlop 204 (not a particularly soft compound) compound as its reference hardness. 
All Blockley tyres are made with new moulds and tooling and a high level of quality control, resulting in a product of unsurpassed quality, roundness and conformity. You will be impressed with the handling!
People who bought this also found the following products useful
Gallery