550 x 18 A6C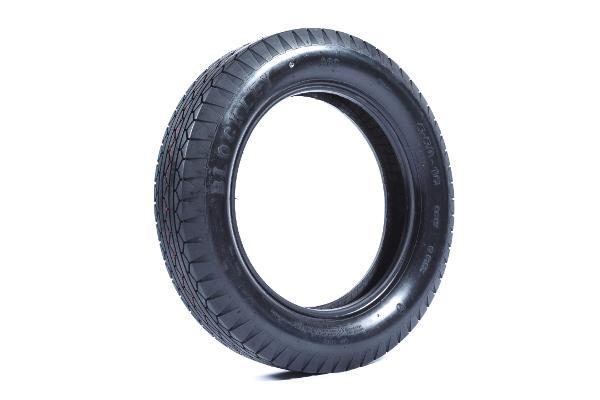 The alternative 5.50 x 18 tread pattern that we call "A6C". A high quality excellent speed rated tyre with a tread pattern looking like that fitted to cars dating from the latter opart of the 1930's to 1950's.

| Type | Crossply |
| --- | --- |
| Rim diameter | 18" |
| Overall diameter | 29.6" (752 mm) |
| Rim width (min) | 2.75" |
| Rim width (max) | 4" |
| Rim width (recommended) | 3" |
| Load index | 88 (6 Ply Rate) |
| Speed rating | H |
| Tread Pattern | A6C |
An additional 550 x 18 Blockley Tyre in our range (we also make a 550x18 with the 3 stud pattern). Designed by us to be visually correct for cars dating from circa mid 1930's to mid 1950's. Ideal for cars such as Alfa Romeo 6C 2500, Derby Bentley, Pre and post war SS Jaguar, Bugatti T57 and many Delage / Delahaye and so on, although some Derby Bentleys, Bugatti 57 and SS cars were supplied new with the other tread pattern we also produce.

Please note the 3 stud pattern tyre in this size is at the same list price. Initially this A6C tyre cost much more, but as we sold enough to recoup the mould and tooling costs we reduced the price.
All Blockley Cross (Bias) ply tyres are made to fit the original rim widths, something other manufacturers have forgotten about over time. In addition they are genuine tyres for road use, with a robust sidewall and covering, capable of being 'curbed' as you would expect from a tyre suitable for road use. We wanted a suitable mid 1930's - 50's look. The compounding of all our cross (Bias) ply tyres conform to FIA Appendix K which uses Dunlop 204 (not particularly soft) compound as its reference hardness.
All Blockley tyres are made with new moulds and tooling and the highest level of quality control, resulting in a product of unsurpassed quality, roundness and conformity.
People who bought this also found the following products useful
Gallery