165HR14
165/80R14,560x14,590x14,6.45x14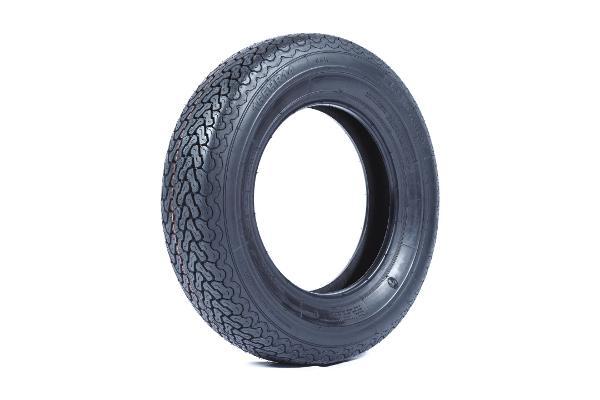 A fantastic period correct Blockley 165R14 tyre with period correct tread pattern with steel belted carcass and good H (130mph / 210kph) speed rating , which will transform the look of your car. Ideal for MGB, Lancia Fulvia , Alfettas, BMW1800/200, Porsche 924 etc. These Blockleys will also transform the handling of your car, which we guarantee. And if you are not convinced (as with all Blockley radials guarantee) we will refund you! The best tyre available, built specially for historic cars.
| Type | Radial |
| --- | --- |
| Rim diameter | 14" |
| Overall width | 170mm 6.61" |
| Overall diameter | 621mm 24.45" |
| Rim width (min) | 4" |
| Rim width (max) | 5" |
| Rim width (recommended) | 4.5" |
| Load index | 87 (545kg.) |
| Speed rating | H (130mph / 210kph ) |
| Tread Pattern | BR1 |
The 165R14 tyre size is the radial equivalent of the cross ply 5.60x14 and 5.90x14 tyres. This Blockley 165R14 is an authentic designed full diameter "80 profile" steel belted Radial tyre, with a excellent speed rating and period correct tread pattern, designed in house, and built in an uncompromised fashion using new moulds and tooling. Designed initially for Lancia Fulvia and MGB owners who wanted a period correct looking tyre that is good in wet as well as dry conditions. These are the best tyres you will ever have driven on. And if after 1,000 miles of use you do not agree, we will give you a refund! These Blockley 165HR14 tyres are E Marked and DOT marked (for use in the USA).
The reasonable price of these exceptional tyres (about half the price of the Pirelli Cinturato or Michelin XAS) is only possible because we sell direct to the end user, and not through the Classic tyre Wholesaler "specialists", which means no added mark ups on Blockley tyres.
Every one of these tyres is inspected and checked for dynamic balance - The small painted yellow circle on the side wall can be aligned with the valve stem by the tyre fitter so they know the optimum place to put it. We perform this additional inspection process, which is not done on any other "Classic Car" tyre as we are determined to supply the best possible no-compromise product. 
Cars we are aware that fit these tyres:
Alfetta 1.6 , Alfetta GT1.6 , Alfetta 1.8
Alfetta 2000 , Alfetta GTV 2000 , Alfetta 2000 Spider Veloce
Audi 100
Austin Cambridge, A60, Countryman
BMW 1500 , BMW 1600
BMW 1800 , BMW 2000
Citroen GS
Lancia Fulvia Coupe Sport 1.3 and 1.6
Sunbeam Harrington Le Mans
Mazda 1800
MGB , MGB GT , MG Magnette
Morris Oxford
Peugeot 504
Porsche 924
Rover P3
Rover 2000 , 2000SC, 2000TC  , 2200SC , 2200 TC (All 4 cylinder Rover P6 models)
Wolseley 16/60
Austin Maxi 1800 Mk2


People who bought this also found the following products useful
Gallery