165VR15
165/80R15,165R380,560x15,600x15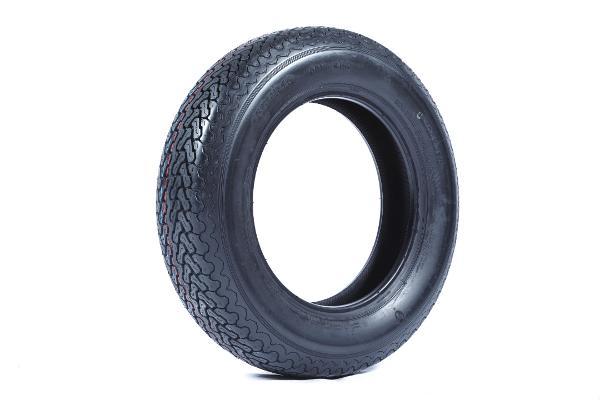 The 165R15 Blockley with correct period tread pattern, with steel belted carcass of unsurpassed quality and excellent V (149mph / 240kph) speed rating and good load rating - marked 165VR15. You will not believe the massive improvement in ride and handling when you drive on these tyres - guaranteed !
| Type | Radial |
| --- | --- |
| Rim diameter | 15" |
| Tread width | 164mm 4.92" |
| Overall width | 172mm 6.61" |
| Overall diameter | 644mm 25.20" |
| Rim width (min) | 4" |
| Rim width (max) | 5.5" |
| Rim width (recommended) | 4.5" |
| Load index | 86 (530kg.) |
| Speed rating | V ( 149mph / 240 kph )) |
| Tread Pattern | BR1 |
This Blockley 165VR15 is a full size "80 profile" steel belted Radial tyre, with a excellent speed rating and lovely period correct tread pattern, designed in house based on period designs. Our Blockley 165R15 tyre was the first V rated tyre in this size available in modern times, with other brands such as Pirelli and Michelin following suit only recently, at their vastly inflated "brand name" prices! We guarantee that nothing available elsewhere will match what we produce. These Blockley 165VR15 tyres are E Marked and DOT marked (for use in the USA). This tyre size can also be called 165/80R15, and also is the same size as the tyre quoted as 165R380.

The prototype set was tested by historic rallyist Paul Wignall using his Alfa Romeo Giulietta on the 2015 Rally of the Tests (Pirelli Challenge) which he won outright.  These tyres, as with all Blockley radials, once scrubbed in (ie driven on normally for say 30 miles), are truly unbelievable in both the wet and dry and we know have no equal.  The low price of this tyre is only because we sell our products direct, and not through the Classic tyre wholesalers, which means we can supply you the best product at a surprisingly low price, benefitting the actual end user rather than the middle men. We make tyres at Blockley because we are car people ourselves with some great cars and use the products that we make, which is why ALL Blockley products (tyres, tubes and bands) are a no compromise perfect product.
Use them for 1,000 miles or so and if they are not the best tyres you have ever driven on we will give a refund.

Every one of these Blockley tyres is inspected and checked for dynamic balance - The small painted yellow circle on the side wall can be aligned with the valve stem by the tyre fitter so they know the optimum place to put it. Something not found on other Classic car tyres, no doubt because it is an additional cost . . We perform this additional inspection process as we are determined to supply the best possible no-compromise product. 
Note that in period a full diameter (also called 80 profile) tyre did not have the "/80" listed in the tyre size, because all radial tyres were full size. It was only much later as lower profile tyres started to become more common that many tyres started having the full profile marked on the sidewall. So 165R15 would also be referred to as 165/80R15, which both mean the same thing. Our Blockley tyres are marked 165R15 on the sidewall because this is the authentic numbering as it would have been originally, on what is now a "Classic" car.
The 165R15 tyre size is typically suitable for:
Alfa Romeo Giulietta and Giulia
MGA , MGC , MG TF , MG TD , MG YB , MGZA , MGZB

(Austin Healey) Healey 100/4 , 110/6 , 3000 
Peugeot 430 , 404

Porsche 356, Porsche 912 and early 911
Triumph TR2/3/4/5/6
Morgan 4/4
Daimler Dart (original size)
VW Beetle 1600 , k70 , Karman Ghia
Volvo 131 , 133 , P1800, Amazon
Lancia Flavia Sport Coupe Convertible, 1.8LX , 2000 , 2000LX
Saab 96 option
Saab 99GL (all variants including L and Combi), 
Scimitar. Sabre6 , SE4 , SE4A
TVR Vixen (original fitment on 4 1/2" wheels)
People who bought this also found the following products useful
Gallery