165VR15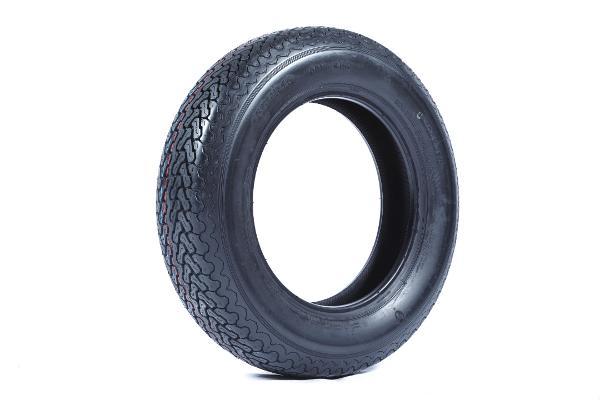 A superior quality steel belted Radial tyre 165 R 15
| Type | Radial |
| --- | --- |
| Rim diameter | 15" |
| Tread width | 164mm 4.92" |
| Overall width | 172mm 6.61" |
| Overall diameter | 644mm 25.20" |
| Rim width (min) | 4" |
| Rim width (max) | 5.5" |
| Rim width (recommended) | 4.5" |
| Load index | 86 |
| Speed rating | V ( 149mph / 240 kph )) |
| Tread Pattern | BR1 |
This Blockley 165 R 15 is a modern designed full size "80 profile" steel belted Radial tyre, with a good speed rating and lovely period correct tread pattern, designed in house. Our Blockley 165R15 was the first V rated tyre in this size available in modern times, with other brands such as Pirelli and Michelin following suit recently, at their vastly inflated prices!

The prototype set was tested by historic rallyist Paul Wignall on his Alfa Romeo Giulietta on the 2015 Rally of the Tests (Pirelli Challenge) which he won outright. These tyres, as with all Blockley radials, once scrubbed in, are truly unbelievable in the wet and dry and we know have no equal. The low price of this tyre is only because we sell our products direct and not through the Classic tyre wholesalers, and in this way can therefore supply the best product at the lowest price benefitting the actual end user.
All new tyres need scrubbing in and once scrubbed a little you will not find a better tyre. Use them for 1,000 miles or so and if they are not the best tyre you've driven on we will give a refund.

Suitable for many cars from the 1960s including Alfa Romeo, MG A and Porsches (356, 912, early 911 and 914/6) and so on. Below are listed some other models we know of.
Every one of these tyres is inspected and checked for dynamic balance - The small painted yellow circle on the side wall can be aligned with the valve stem by the tyre fitter so they know the optimum place to put it. We perform this additional inspection process as we are determined to supply the best possible no-compromise product.

A popular size typically suitable for:
Alfa Romeo Giulietta and Giulia
MGA , MGC , MG TF , MG TD , MG YB
(Austin Healey) Healey 100/4 , 110/6 , 3000
Porsche 356, Porsche 912 and early 911
Triumph TR2/3/4/5/6
Morgan 4/4
Daimler Dart (original size)
VW Beetle 1600 , k70 , Karman Ghia
Volvo 131 , 133 , P1800, Amazon
Lancia Flavia Sport Coupe Convertible, 1.8LX , 2000 , 2000LX
Saab 96 option
Saab 99GL (all variants including L and Combi),
Scimitar. Sabre6 , SE4 , SE4A
TVR Vixen (original fitment on 4 1/2" wheels)
People who bought this also found the following products useful
Gallery