185/70VR15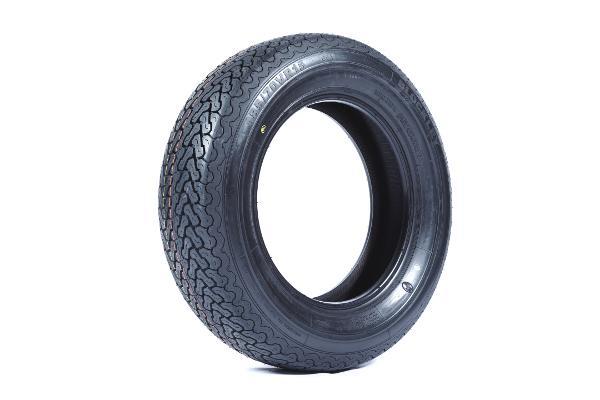 A superior quality Blockley steel belted 185/70 R 15 tyre size with an excellent V speed rating. These stunning period correct tyres will transform the driving, ride quality and handling for your car, guaranteed.
The 185/70R15 tyre is also ideal size if you are looking for a wider version of our narrower 165 VR 15 tyre.

| Type | Radial |
| --- | --- |
| Rim diameter | 15" |
| Tread width | 196mm |
| Overall width | 192mm |
| Overall diameter | 642mm |
| Rim width (min) | 5" |
| Rim width (max) | 6.5" |
| Load index | 89 (580kg.) |
| Speed rating | V ( 149mph / 240 kph ) |
| Tread Pattern | BR1 |
This Blockley 185/70 VR 15 is a steel belted Radial tyre, with an excellent V speed rating (149mph) and period correct tread pattern, designed in house, and built on new moulds and tooling.  These Blockley 185/70R15 tyres are E Marked and DOT marked (for use in the USA).
185/70R15 size is a wider version of a full size 165R15 .

We incorporated a kerbing strip on this tyre because this 185/70x15 is a popular fitment for a Porsche 911, running Fuchs wheels. Alloy wheels prior to 1968 are not tubless type, so please check whether you should also need inner tubes.
All new tyres need scrubbing in and once scrubbed in you will not find a better tyre!  As with all Blockley radial tyres, we guarantee that if they are not the best tyres you have ever driven on we will give a refund - you will not be disappointed! We guarantee you cannot buy a better tyre.

This is a truly impressive tyre in both wet and dry conditions, and its steel belted construction means that the handling is still superb even when your engine is cantilevered over the back of your chassis as on a Porsche 911 ! And this tread pattern is what the 911 left the factory with. You will be impressed. We guarantee, as with all the radial Blockley range, that if these are not the best tyers a customer has ever driven on, do 1,000 or so miles and we will refund.

Every one of these tyres is inspected and checked for dynamic balance - The small painted yellow circle on the side wall can be aligned with the valve stem by the tyre fitter so they know the optimum place to put it. We perform this additional 100% inspection process as we are determined to supply the best possible no-compromise product. 
Typical fitted to:
Porsche 911, 924
deTomaso Pantera (Front Wheels)
Maserati Merak (front Wheels)
Jensen GT , Jensen Healey
Austin-Healey
Triumph TR4 , TR5 , TR6
Triumph Stag
Daimler Dart (wider version of original 165R15 size)
People who bought this also found the following products useful
Gallery