185VR15
185/80R15,185R380,195/70R15, 640x15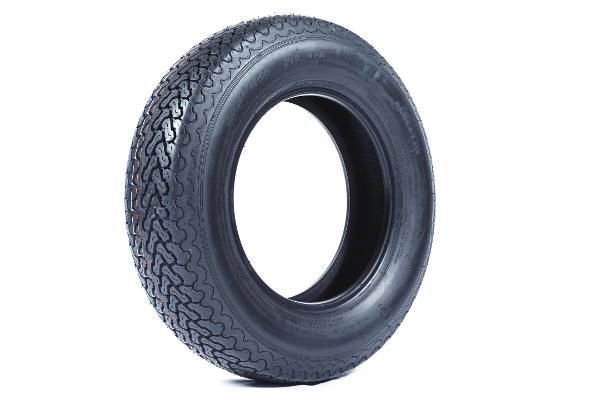 A superior quality steel belted Radial full 80 profile diameter 185 VR 15 tyre, with authentic period correct tread pattern and sidewall. These are the best tyres you will ever drive on, with noticeable improvements in handling, ride and steering accuracy. There will also be a noticeable lightness to steering effort. And our surprisingly low prices are possible only because we sell direct to the end user, bypassing the big Classic Tyre wholesalers and their mark ups. You will not be disappointed, guaranteed! 
| Type | Radial |
| --- | --- |
| Rim diameter | 15" |
| Tread width | 5.67" / 196mm |
| Overall width | 7.28" / 184mm |
| Overall diameter | 26.65" / 677mm |
| Rim width (min) | 4" |
| Rim width (max) | 6" |
| Rim width (recommended) | 5.5" |
| Load index | 91 (615kg.) |
| Speed rating | V ( 149mph / 240 kph ) |
| Tread Pattern | BR1 |
This Blockley 185 VR 15 is a properly designed full size "80 profile" steel belted Radial tyre, with a good V (149mph / 240kph) speed rating, good load rating and period correct tread pattern, designed in house. This is a radial alternative to the cross ply 6.40x15 and 6.70x15 as can be seen on our Tyre size Equivalents chart. The 185R15 is also the equivalent of the now unavailable 195/70R15 size. In some European countries there was also a millimetric 185R380 tyre size quoted, this size being identical to the 185R15 size listed here. Customers using our Blockley 185VR15 have often commented on how the steering has lightened, and in many cases has enabled the customers not to fit the power steering they were about to embark on! These Blockley 185R15 tyres are E Marked and DOT marked (for use in the USA).
This full profile V rated 185R15 size was a year and a half in development, with the prototype on display early in 2009, and Blockley released the production of 185VR15 tyres for sale in 2010. The Dunlop Aquajet then subsequently followed us with V speed rating, while at the same time got it's price reduced - but not for long!

Despite significant competitor reaction, we survived. This Blockley 185VR15 tyre has proven its worth with its unbelievable handling, ride characteristics and longevity. Many have commented on the lighter steering, as if power steering has been added! The wet weather performance is impressive, but best of all it looks good on the cars with it's authentic period correct tread pattern. Our tyre is more authentic looking on a 1960s Jaguar than the Dunlop Aquajet which was a later introduced design.
Also remember the Blockley radial tyres guarantee. Scrub in (ie drive normally) for say 30 miles, then use for 1,000 or so miles and if they are not the best tyres you have ever driven on we will refund. Lighter steering, better ride, good in the wet and so on. Looks fantastic as in period. Perfection!
Every single one of these Blockley 185VR15 tyres made has been inspected and checked for concentricity and dynamic balance. The small painted yellow circle on the side wall can be aligned with the valve stem by the tyre fitter so they know the optimum place to put the tyre. We perform this additional inspection process as we supply the best possible no-compromise product, and belive there is nothing better that can be fitted to your Classic , irrespective of the other brands being aggressively pushed. No other Classic tyre has this inspection process on every tyre. The remarkably low price of this highest quality tyre is only because we sell direct to the customer / end user, avoiding the mark ups of the Classic Tyre Wholesalers that people have got used to buying their tyres through.
Note that in period a full diameter (also called 80 profile) tyre did not have the "/80" listed in the tyre size, because all radial tyres were full size. It was only much later as lower profile tyres started to become more common that many tyres started having the full profile marked on the sidewall. So 185R15 would also be referred to as 185/80R15, which both mean the same thing. Our Blockley tyres are marked 185R15 on the sidewall because this is the authentic numbering as it would have been originally.
The 185R15 tyre size was typically fitted to cars such as :
- AC Cobra 289 (Mk1 and Mk2)

- Alvis 3 litre 1950 - 1957
- Aston Martin DB4 (post 1962), DB5 and DB6 (series 1 and 2)
- BMW 2600, BMW 3200
- Bristol 410 and 411 (Series 1)
- Chevrolet Corvette C2 (1963 - 1967 )

- Citroen ID (ID21, ID19, ID21) and DS (DS21, DS23)
- Daimler SP250
- Daimler V8
- Gordon Keeble. All models 1964 - 1966-
- Jaguar E type (S1, S1.5 and S2)
- Jaguar Mk1 , Jaguar Mk2
- Jaguar S Type (we make larger sizes also)
- Jaguar 420 and Daimer Sovereign

- Mercedes 300SL

- Jensen CV8, 541R, 541S and Interceptor (we make the larger option sizes also)
- Mercedes 300SL

- Morgan +8
- Triumph TR6 (cars supplied new to the USA)
- TVR Tuscan (V8 engined)

- Rover P4 , Rover P5
People who bought this also found the following products useful
Gallery