185VR15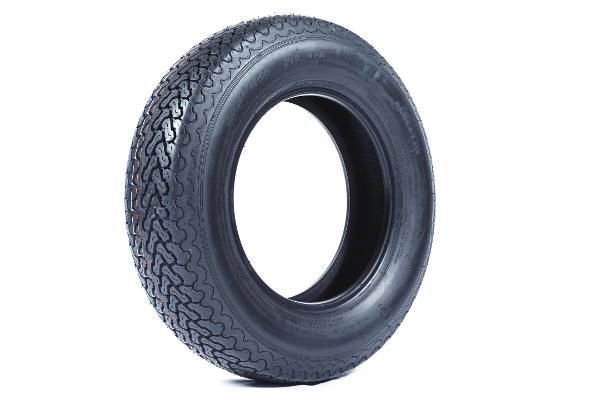 A superior quality Radial tyre 185 VR 15
| Type | Radial |
| --- | --- |
| Rim diameter | 15" |
| Tread width | 5.67" / 196mm |
| Overall width | 7.28" / 184mm |
| Overall diameter | 26.65" / 677mm |
| Rim width (min) | 5" |
| Rim width (max) | 6.5" |
| Rim width (recommended) | 5.5" |
| Speed rating | V (149mph) |
| Tread Pattern | BR1 |
This Blockley 185 VR 15 is a modern designed full diameter "80 profile" steel belted Radial tyre, with an exceptional speed rating and period correct tread pattern, designed in house.

This full profile V rated 185x15 was a year and a half in development. It was due to this Blockley tyre that Dunlop panicked and  got their 185R15 Aquajet tyre V speed rated, while Vintage Tyre Supplies at Beaulieu also slashed the list price of the Dunlop Aquajet by a third. For a year they overproduced and got them into every specialist and car restorer / dealerships they could to ensure that Blockley would have difficulty selling our tyre when it was made! 
Despite this onslaught we survived, while this tyre has proven its worth with its unbelievable handling, ride characteristics and longevity. Many have commented on the lighter steering, as if power steering has been added! The wet weather performance is impressive, but best of all it looks good on the cars.  Our tyre is more authentic looking on a 1960s Jaguar than the Dunlop Aquajet which was a later introduced design, produced on very old tooling. 
This tyre size equates to a 185/80.
Every one of these Blockley tyres is inspected and checked for dynamic balance - The small painted yellow circle on the side wall can be aligned with the valve stem by the tyre fitter so they know the optimum place to put it. We perform this additional inspection process as we are determined to supply the best possible no-compromise product. 
People who bought this also found the following products useful
Gallery