205/70VR14
205/70R14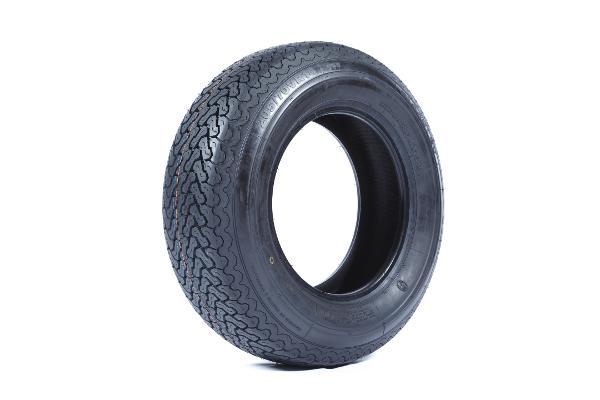 205/70 VR 14 tyre size with a authentic period correct tread pattern with excellent speed rating (V is 149mph / 240kph) and excellent load rating. This high quality Blockley tyre, built as a steel belted radial, will transform all aspects and pleasure of driving your car - guaranteed!

| Type | Radial |
| --- | --- |
| Rim diameter | 14" |
| Tread width | 216mm |
| Overall width | 214mm |
| Overall diameter | 644mm |
| Rim width (min) | 5.5" |
| Rim width (max) | 7.5" |
| Rim width (recommended) | 6" |
| Load index | 95 (690kg.) |
| Speed rating | V ( 149mph / 240 kph ) |
| Tread Pattern | BR1 |
This Blockley 205/70 VR 14 is a high quality steel belted Radial tyre, with an exceptional load and speed rating ( 95V ) - compare our Blockley 205/70VR14 to anything else is available! With a period correct tread pattern, designed in house, our tyres are built on brand new moulds and tooling. These Blockley 205/70R14 tyres are E Marked and DOT marked (for use in the USA), and their reasonable price is only because we sell our Blockley tyres direct.
Made primarily for the Classic Mercedes SL (280, 300, 350, 400) and BMW models (730 , 730i). It is also suitable for the Ferrari Dino 206 and 246 - see list below. Benefiting from our period tread pattern with a high-load and speed rated design. These tyres will be a true revelation in handling in both wet or dry conditions! Drive normally for 30 miles to bed them in (as you should any tyre) then drive for 1,000 miles or so and if these are not the best tyres you have ever driven on we will give a refund! They will be a revelation, and make you wonder why anyone would want anything else!
Every one of these tyres is inspected and checked for dynamic balance - The small painted yellow circle on the side wall can be aligned with the valve stem by the tyre fitter so they know the optimum place to put it. We perform this additional inspection process as we are determined to supply the best possible no-compromise product.
Typical fitments for the 205/70R14 size are:
Ferrai Dino 246GT , 246GTS
Alfa Romeo Montreal
BMW 730 , BMW 733i , BMW 735i , E9 , BMW 630CS , BMW 633CSi
Mercedes 280 , 300 , 350 , 380SL , 450 . W-107, W-109 (3.5 and 6.3), W-111, W116
Lamborghini Urraco P200
Ford Mustang
Ferrari Dino 308 GT4 , Dino 308GTB and Dino 308GTS
Lotus Esprit pre 1986
Plus anyone requiring a wider version of a 185R14 (ie 185/80R14) tyre size.
People who bought this also found the following products useful
Gallery