205/70VR15W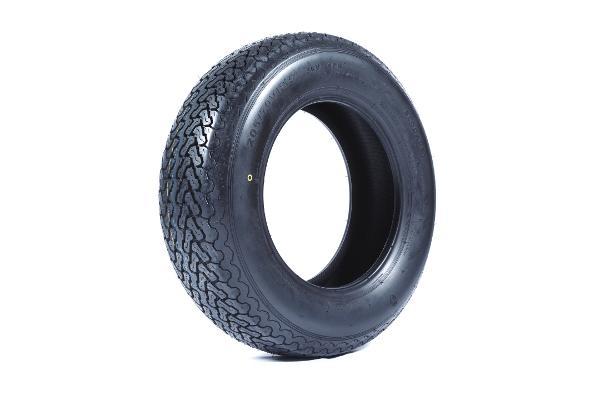 A steel belted W (168mph) speed rated Blockley tyre size 205/70VR15 with period correct tread and sidewall - perfection! This size was referred in period also as ER70 .
| Type | Radial |
| --- | --- |
| Rim diameter | 15" |
| Tread width | 8.27" / 210mm |
| Overall width | 8.27" / 210mm |
| Overall diameter | 26.3" / 668mm |
| Rim width (min) | 5.5" |
| Rim width (max) | 7" |
| Rim width (recommended) | 6" |
| Load index | 90 (600kg.) |
| Speed rating | W (168mph / 270 kph ) |
| Tread Pattern | BR1 |
This Blockley 205/70 VR 15 W speed rated (168mph) is a steel belted Radial tyre, with an exceptional speed rating with period correct tread pattern, designed in house at Blockley. The W rating was incorporated when some German customers requested this higher speed rate, because it was necessary as part of their yearly German TUV inspection. For E marking purposes, this tyre is marked 205/70VR15 90W
Popular on many cars such as Jensen, Aston Martin, Ferrari, Jaguars and some Ford Mustangs.
We have never understood at Blockley why other manufacturers sell their 205/70R15 size at such excessive prices. The Classic tyre wholesalers over a period of time have trained customers to being "ripped off" . Remember this 205/70VR15 is basically a slightly wider version of a 185VR15 tyre size. 205/70R15 is a popular size that sells in adequate numbers yet costs little more to produce than a 185R15 size, because the mould costs about the same, and the tyres also, which is why Blockley charge little more for our 205/70WR15 tyre. This demonstrates that Blockley does not exist for the same reasons as our competitors. So do not be concerned at the low price of our 205/70VR15 W speed rated Blockley tyre. It is only because we sell direct to the end user and garages etc and not via the "Classic" tyre wholesaler middlemen. This superb tyre represents incredible value.
Every one of these tyres is inspected and checked for dynamic balance - The small painted yellow circle on the side wall can be aligned with the valve stem by the tyre fitter so they know the optimum position to place it. We perform this additional inspection process as part of supplying the best possible no-compromise product. Scrub them in (ie drive normally for say the first 50 miles) and then use them for 1,000 miles or so - if you are not convinced these Blockleys are the best tyres you've ever driven on (ride, handling, steering etc.) we will give a refund.