215/70VR15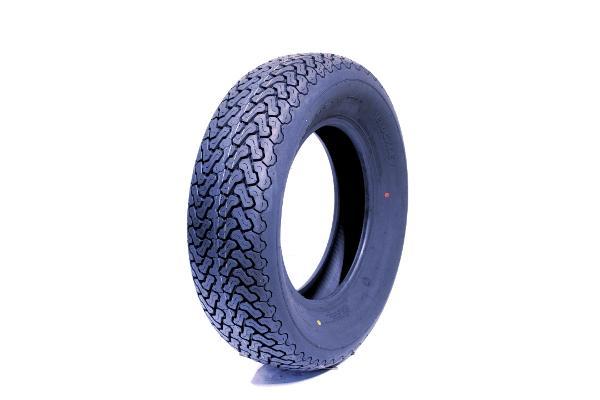 A superior quality Radial tyre  215/70 VR 15
| Type | Radial |
| --- | --- |
| Rim diameter | 15 |
| Tread width | 217mm |
| Overall width | 232mm |
| Overall diameter | 683mm |
| Rim width (min) | 6" |
| Rim width (max) | 8" |
| Rim width (recommended) | 6.5" |
| Load index | 98 |
| Speed rating | V(149mph) |
| Tread Pattern | BR1 |
The Blockley 215/70 R 15 is a superior quality period looking V speed rated tyre built on new moulds and tooling that is commonly fitted to Jaguar XJ12 , Ferrari Daytona, AC Cobras, Ford Mustang Shelby GT350 etc (see the many examples in list below).
Every one of these tyres is inspected and checked for dynamic balance - The small painted yellow circle on the side wall can be aligned with the valve stem by the tyre fitter so they know the optimum place to put it. We perform this additional inspection process as we are determined to supply the best possible no-compromise product. These will be the best handling tyres you have ever driven on - do 1,000 miles or so on them and if you disagree we will refund!

Common Tyre fitment:
Jensen Interceptor Mk3
AC Cobra Tyres
Jaguar XJ12 Tyres
Jaguar XJS Tyres
Daimler Double Six , Daimler Sovereign
Ford Mustang Shelby 350
Mercedes W116 (6.9 litre)
Jaguar E-Type v12 (an option for the rear)
Ferrari Daytona 365 GTB
Aston Martin DB6
Chevrolet Corvette C2.
Perfect for 1963 through 1967 C2 Sting Ray.
Lamborghini Jamara 400 GT

Lamborghini Espada S Ii 3.9
Maserati Merak
Maseratir Khamsin
Maseriati Bora, Ghibli, Quattroporte
Maserati Mexico (should be 205/70VR15 but many use this tyre size 215/70x15)
Ferrari 512 Tyres
Ferrari 400 GT / GTS Tyres
Jensen Interceptor 4x4 Tyres
Bentley T1 , Bentley T2
People who bought this also found the following products useful