550 x 16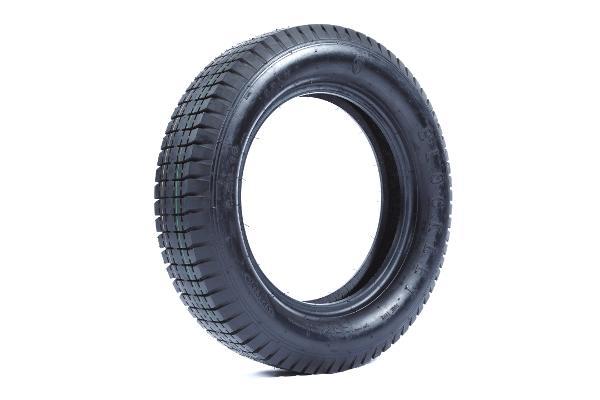 A 5.50 x 16 cross(bias) ply tyre with our 5 block tread pattern.
Made to L section dimensions.

| Type | Crossply |
| --- | --- |
| Rim diameter | 16" |
| Tread width | 4.40" (112mm) |
| Overall width | 6.73" (171mm) |
| Overall diameter | 27.10" (690mm) |
| Rim width (min) | 3.75" |
| Rim width (max) | 5.5" |
| Rim width (recommended) | 4" |
Prior to Blockley making this size owners of classic cars were all being recommended and sold radial tyres made for Taxis by the 'Classic' wholesalers! Our Blockley 550 L 16 with the 5 stud tread pattern is ideal for cars such as the AC Ace, post war Frazer Nash, Bristol and BMW 328, the front of a Ferrari Testarossa (with 600x16 on the rear) and so on. These tyres are perfect for a Ferrari 166 or A6 Maserati. People have been historically brainwashed by the wholesalers that Radial tyres are better than cross ply tyres, no doubt due to the dire quality of the available cross plys they were offering - when you experience these Blockley cross plys on the road you will see what a revelation something well designed and well made is.
These are genuine tyres for road use, with a robust sidewall and covering, capable of being 'curbed' as you would expect from a tyre suitable for road use. We wanted a suitable mid 1930's - 50's look. The compounding of all our cross (Bias) ply tyres conform to FIA Appendix K which uses Dunlop 204 compound as its reference hardness.
All Blockley tyres are made with new moulds and tooling and a high level of quality control, resulting in a product of unsurpassed quality, roundness and conformity. The 550L16 is an ideal replacement for a normal 600x16 size.
Good for:
- BMW 328
- AC Ace , Aceca
- Post war Frazer Nash
- BMW 503 , 507
Aston Martin DB2/4

- etc
People who bought this also found the following products useful
Gallery