185VR16
185/80R16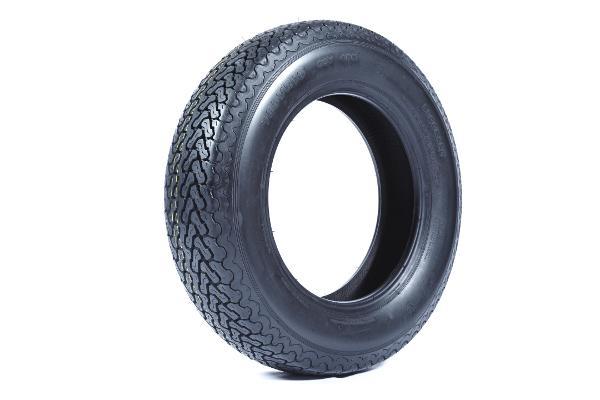 A full size "80 profile" 185VR16 steel belted radial tyre of incredible quality, with good speed rating. We guarantee these will be the best tyres you will ever have driven on, with noticeable improvements in handling, ride, steering accuracy and lightness. Our low price has only been possible by selling direct to the end user / restorer garages, and bypassing the Classic Tyre wholesalers and their margins. You will not be disappointed! 

| Type | Radial |
| --- | --- |
| Rim diameter | 16" |
| Tread width | 5.59" / 196mm |
| Overall width | 7.4" 188mm |
| Overall diameter | 27.64" 696mm |
| Rim width (min) | 4" |
| Rim width (max) | 6" |
| Load index | 93 (650kg.) |
| Speed rating | V ( 149mph / 240 kph ) |
| Tread Pattern | BR1 |
This Blockley 185R16 with 150mph V rating is a modern designed full size "80 profile" steel belted Radial tyre, with an good speed rating and period correct tread pattern, designed in house. Many have commented how this Blockley tyre has lightened their steering effort.
Popular on many Bristol, Aston Martin and Jaguar XK 120 through XK150 as well as many Maserati and Ferrari models. Also used on post war Riley RM's (1 1/2 and 2 1/2 litre RMA through RMF) as well as the later Riley Pathfinder.
Many cars that in period had a cross-ply 600 x 16 usually fit a 185 R16 size these days.
This Blockley 185R16 tyre size could also be called a 185/80R16 profile. In period all radial tyres were /80 unless specified otherwise.
These Blockley tyres are between 40 and 50% less in overall cost (vat included) than a Vredestine, Michelin, Pirelli etc! Do not worry about this! The only reason the Blockleys cost less is because we sell the tyres we produce direct to the end user, and not through the services of the "Classic" tyre wholesaler resellers.
Every one of these steel belted Blockley 185x16 tyres is fully inspected and checked for dynamic balance. The small painted yellow circle on the side wall can be aligned with the valve stem by the tyre fitter so they know the optimum position to place the tyre. We perform this additional inspection process as part of supplying the best possible no-compromise product. As per all our Blockley radials, if you are not convinced in 1,000 miles of road use that these are not the best tyres you've ever driven on, we will offer you a refund.
Finally, these are a tubeless constructed type tyre. For those who require inner tubes, which would be most customers as their wheels will not be tubeless type (with the safety ridges), we would recommend the thicker cross ply compatible 600/650x16 inner tube. But we also have a 175/185-16 tube also.
Perfect for:
- Jaguar XK 120 , XK 140 , XK150 , C Type
- Jaguar Mk5 , Mk7 , Mk8 , Mk9
- Allard All models 1945 through 1956 (we also make cross ply tyres to suit).
- Ferrari 250GT 250GTE
- Maserati 3500GT , Maserati Sebring
- Aston Martin DB2 , DB2/4 , DB2/4 Mk3 . DB4 (up to 1962)
- Bentley Mk6 , Bentley R type
- Lea Francis (up to 1954)
- Riley RMA , RMB , Pathfinder
- Triumph Gloria, Roadster , Renown
- Bristol 401, 402 , 403 , 404 , 405 , 406 , 407 , 408 , 408 , 409
- Jensen pre 1958
- Lagonda 2.5 , 2.6 and Lagonda 3 litre ( 1949 through 1958 )

People who bought this also found the following products useful