Chrysler Talbot Sunbeam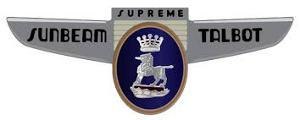 The Chrysler-Sunbeam, well known to most for their Rallying success as Talbot Sunbeam Lotus. These cars were produced in Scotland for 5 years between 1977 and 1981 by Chrysler. They were based on the Hillman Avenger with a slightly shortened chassis, and made in the same former Rootes Group Linwood plant. The Range came with a 928cc ( modified Hillman Imp all alloy engine), 1295, 1598 and the Lotus 16 valve 2172cc engine that saw use in various Lotus and Healey cars. These Chrysler-Sunbeams came in base model LS, then GL with the most luxuriant variant the S. And at the same time as these cars appeared Chrysler sensibly dropped all the Avenger models bar the most expensive, so as to keep the marketing more simple and direct.
When Chrysler Europe sold out to the French PSA group early in 1979, the cars stayed the same but the badge now simply read "Talbot".
Select Model
Chrysler Sunbeam
Blockey Products for Chrysler Talbot Sunbeam